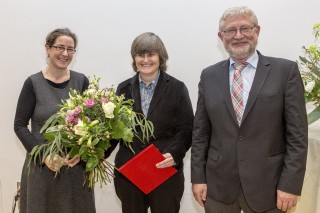 As a highlight of the evening, the Mildred Dresselhaus Award 2014 was presented to Prof. Roseanne Sension (center left) and Dr. Anouk Rijs (center right). Credit: UHH RRZ/MCC Arvid Mentz
CUI's second New Year's Reception in the Center for Free-Electron Laser Science on Thursday, January 15, startet with a champagne reception, followed by welcoming speeches delivered by
Dr. Dorothee Stapelfeldt, Second Mayor and Minister of Science and Research of Hamburg,
Prof. Dr. Heinrich Graener, Dean of the Faculty of Mathematics, Informatics and Natural Sciences, Universität Hamburg
Prof. Dr. Horst Weller, Speaker of CUI, Universität Hamburg.
Ceremonial presentation of the Mildred Dresselhaus Awards 2014 to
Dr. Anouk Rijs, Radboud Universiteit, Niederlande
Prof. Roseanne Sension, University of Michigan, USA
Prof. Arwen Pearson und Dr. Melanie Schnell delivered the laudations to honour the awardees' outstanding contributions to physics and chemistry.
After the ceremony, a science show gave insight into the cluster's research before food and drinks were served.
Music: "ARTIS GitarrenDuo".
Also view: New Year's Reception: Senator looks into the future of CUI