Thousands of people were expected – and thousands flocked to DESY and the Bahrenfeld Campus to participate in the Knowledge Night and the Open Day on November 2; in the early evening 4000 had already found their way to the  Centre for Free-Electron Laser Science. At the end of this long night, more than 5000 had visited CFEL and CUI.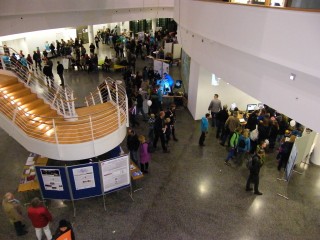 In the CFEL-foyer the scientists presented a whole lot of booths for experimenting and examining. The high-speed camera for example, which CUI-Professor Markus Drescher and his team used to produce ultrafast images, attracted a lot of attention: children and adults had a lot fun in chopping balloons, hazelnuts, and rock candy and the resulting 1000 pictures per second. Corresponding to the research at the Centre for Ultrafast Imaging, these pictures were then fit together to a very effective mini-film.
Around the corner Privatdozent Markus Perbandt and his colleagues presented very appealing protein models bathed in red, blue, green and violet light.
At the same time, the lecture hall in the Centre for Optical Quantum Technologies (ZOQ) was filled to the last seat, when Professor Peter Schmelcher for example talked about modern perspectives for quantum physics.
Furthermore, the laboratories in the ZOQ and the various experiments provided by the school lab of "Light&Schools" attracted equal attention.