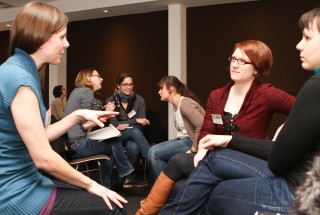 The first "Womens' Career Day" which took place at the Bahrenfeld Campus in the beginning of February was highly popular. Especially the workshop "Women and Leadership" caught the scientists' attention. Also the courses "Vocal Power and Physical Presence", "Project Management in Science" and "Media and Public Relations in Academia" were in great demand: Of more than 100 applications altogether, 30 women could participate each day. For the first time, a series of workshops was exclusively addressing women. An important goal of the organizers Wiebke Kircheisen, Equal Opportunity Officer at CUI and at SFB 676, and Mirko Siemssen, Coordinator of the PIER Helmholtz Graduate School, was to offer female scientists a platform for networking independent of specific institutes.
In order to meet the international character of natural sciences, all courses were held in English. "This was of great concern to us, because whoever wants to make her career in this field has to be able to present herself in English", Kircheisen states. "In addition, scientists who are no native German speakers would otherwise not be able to use our offers." Actually, half of the participants' mother tongue is not German. Rose Lerner from Great Britain, postdoc in the DESY Theory Group, appreciated the concept a lot: "Apart from the workshop contents it was very important for me to be able to exchange experiences with other scientists from different areas. I'll be meeting some of the colleagues I got to know during these two days regularly in the future."
CUI, the Collaborative Research Centers 676 and 925, as well as the PIER Helmholtz Graduate School had invited to the Women's Career Day. The aim was to support female Ph.D. candidates, Post docs, and Master students in developing and strengthening the skills which are necessary for a professional career in research. "We took especially care of selecting coaches with longtime experiences in scientific fields and in leadership", Siemssen explains. "Female role models in professions dominated by men are an important factor in order to support women's careers in this area."
Francesca Moglia (Italy), from the Institute for Laser Physics, adds: "We really need more offers like this, especially in English and concerning topics such as job application trainings. Women on the Bahrenfeld Campus are coming from the whole world; for many of us, our professional future will also be there. Kircheisen: "We are glad that our concept is highly appreciated. The participants' feedback encourages us to offer more events of this kind."
In addition, some very interesting comments could be heard like that it is common for women in Russia and Iran to make their career in Physics. Scientists from these countries wondered how unusual such careers still are in Germany.
In fact, women from various scientific fields of Universität Hamburg, TU Hamburg-Harburg, DESY and other Helmholtz Centers, European XFEL, and European Molecular Biology Laboratory had registered. Due to the unexpected great interest that lead to long waiting lists for single workshops, a second "Women's Career Day" is planned in March.