Important enhancement of Uni-Hamburg-App: Where to find the range of services concerning the combination of family and work/studies? Where is the next location to swaddle my baby? Where is the daycare? Where will I find a place for me and my family in the Mensa? Let the family related enhancement of the Uni-Hamburg-App lead you around campus. Just one glance onto your mobile phone and it will show you where to find the facility you requested!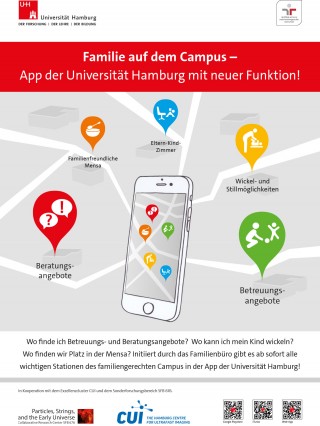 "From now on the UHH-App has a family-button that allows retrieving every single service-facility situated on the university campus and I am happy we developed an advanced tool that shows up the family service-facilities for our university members," Carolin Steinat says. The coordinator of the Uni Hamburg family office realized a matter that is near to her heart together with Marie Lutz, equal opportunity officer at CUI, and Wiebke Kircheisen, managing director of the collaborative research centre SFB 676. In the past, Steinat had already researched every location and contact person for special family friendly offers and visualized them in a pdf-site plan. However, what was missing was a modern and easy-to-find way of presenting the information. "With the help of automatic positioning and GPS-driven route planning everybody can now find the shortest way to the family related locations on the university campus, enroute," Carolin Steinat continues.
The campus-navigator, the core of the Uni-Hamburg-App, offers quick and attractive access to the services – including the University's service on the Bahrenfeld Campus. "In collaboration with the colleagues from online-services in media and public relation, we developed particular icons for the different offers that are internationally comprehensible and that show up the nearest nursery-room or childcare at a glance," Marie Lutz says. "We consider the app as a further element in the concept of an international and family friendly university," Wiebke Kircheisen adds. In addition, an update of the general appearance of Campus Bahrenfeld could be initiated.
"UHH mobile" is available in the App store for free. The app offers a total service-package that is continuously developed further. Apart from the campus-navigator for example mensa plans, contact information, current news of the university or the calendar of events can be retrieved comfortably by the smartphone. The app is also available in English.