"When something happens for the third time in Hamburg, it is already called a tradition." With a twinkle in the eye CUI spokesperson Prof. Klaus Sengstock greeted the approximately 120 invited guests to the third New Year's Reception  celebrated by the cluster of excellence in the Center for Free-Electron Laser Science (CFEL). As a highlight of the evening, the Mildred Dresselhaus Award was presented to Dr. Liesbeth Janssen and Prof. Elspeth Garman.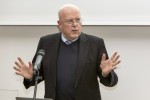 To begin with, Prof. Dieter Lenzen, president of Universität Hamburg, stressed the cluster's importance as a research center at the University. CUI spokesman Prof. Horst Weller outlined the cluster's development and – with regard to external guests – pointed out application potentials in medicine and technology: for example a clinical trial at the UKE on therapeutic options for multiple sclerosis (MS) which could be developed from outcomes of basic research.
Prof. Klaus Sengstock then led to the highlight of the evening: He described Mildred Dresselhaus, Professor of Physics and Engineering at the Massachusetts Institute of Technology (MIT), who opposed common ideas about suitable occupations for women in the fifties, as a real role model. It was a great honour for CUI, he said, to be able to name the Guest Professorship Program after her. Every year the Mildred Dresselhaus Award is presented to a successful senior female scientist and to a younger researcher with high potential.
This year's junior award went to Dr. Liesbeth Janssen. CUI Professor Gabriel Bester outlined the Dutch scientist's career from her chemistry studies at Radboud University in Nijmegen and then changing the subject towards the field of condensed matter in glassy systems as a Postdoc at Columbia University in New York – to her present research at the Institute for Theoretical Physics of Heinrich-Heine Universität Düsseldorf. Although she had spent just a few days in Hamburg, Liesbeth Janssen is sure that her theoretical considerations will profit a lot from the collaboration with the experimental groups, she said in her acceptance speech.
The senior award went to the renowned biochemist Professor Elspeth Garman from University of Oxford. Laudator Prof. Arwen Pearson described her contributions to the field of macromolecular crystallography and also her outstanding position as a role model and mentor for many others, including Pearson herself, during studies and conferences: "She was like a magnet at these meetings and would be surrounded by students – you could always tell where she was by the crowd in the room (in fact, this is still the case!)."
Elsbeth Garman promptly reached into her "magic box" and proofed her skills impressively. Apart from different showpieces she presented a model made of papier-mâché once owned by her mentor Louise Johnson. Another CUI award for outstanding female scientists is named after the professor of molecular biophysics who passed away in 2012 – the Louise Johnson Fellowship.
Prof. Heinrich Graener, Dean of the Faculty of Mathematics, Informatics and Natural Sciences, handed over the certificates. The Duo Kalís accentuated the award ceremony with jazz music. After the ceremony the guests got into intensive conversations or enjoyed a glimpse at various stands where research was presented. Credit for all photos: UHH, RRZ/MCC, Arvid Mentz